Category:
2| Apps & Integrations
Zoazi for iOS – App settings
The Zoazi app settings on iOS can be located under the Settings app. Simply scroll through the list of installed apps to find Zoazi.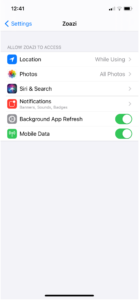 Zoazi does require usage of the 'Location' permissions. If you wish to track your runs via in in-app tracking, it is essential that this permission is granted, and that the 'Background App Refresh' setting is also enabled.
If you wish to receive Zoazi session notifications before you run, you will also need to enable them via the notifications option shown above.
Supported Apple devices and Apple operating systems
The Zoazi App is compatible with all iPhone devices running iOS versions up to and including the latest iOS 14.
We do not support iPad or Apple Watch at this time.
Was this article helpful?